Contact Us
Bill's Small Engine Repair
17725 Muckshaw Road
Argos, IN 46501
Shop Phone: (574) 892-5026
House Phone: (574) 892-5268
Our Location
Bill's Small Engine Repair is located on Muckshaw Road in southern Marshall County, Indiana. We're located about half-way between Argos and Culver. We're a little out of the way, but we're not hard to find. Just take State Road 10 to Muckshaw Road, head south across the railroad tracks and we're about a mile down the on the west side of the road. Just look for the sign!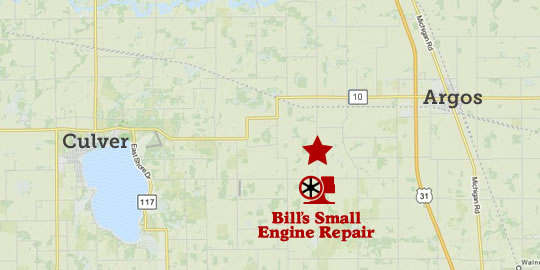 Office Hours
Monday thru Saturday - 10:00 am to 6:00 pm (Eastern Time).
Send Us an Email
Please fill out the form below and we'll get back with you as soon as possible.